Corrosion Engineering & Installation Services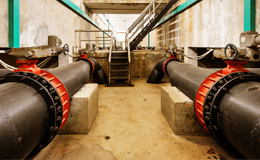 Since 1997, RKR Hess's parent company, Universal Technical Research Services, Inc. (UTRS), has provided a variety of comprehensive corrosion control services to myriad clients. As a result of UTRS's recent acquisition of RKR Hess, its corrosion control services are now available to RKR Hess clients. UTRS's corrosion control team comprises the highest caliber licensed professional engineers and construction managers, many of whom have decades of field experience and are highly respected by their cathodic protection industry colleagues. All of our project engineers are NACE International certified, and many of our lead engineers frequently teach NACE certification courses.
In addition to its wide range of civil and environmental engineering services, RKR Hess will now be able to provide clients with such corrosion control services as: cathodic protection and alternating current (AC) mitigation for underground water, gas, and oil pipelines; cathodic protection of tank interiors and exteriors, including underground storage tanks (USTs) and aboveground storage tanks (ASTs); cathodic protection of reinforced concrete for bridges and tunnels; cathodic protection for submerged structures; and stray current services related to direct current (DC)-powered transit for heavy rail, light rail, and trolley systems.
Our corrosion engineering services include the following:
---
Corrosion Engineering
---
---
---
---
Construction Services
---
---
---
---
Transit Systems
---
---
---
---
Corrosion Control Services Division Sample Water/Wastewater Projects
---
---
---