Corrosion Engineering & Installation Services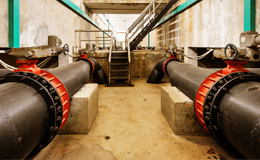 Since 1997, RKR Hess's parent company, Universal Technical Research Services, Inc. (UTRS), has provided a variety of comprehensive corrosion control services to myriad clients. As a result of UTRS's recent acquisition of RKR Hess, its corrosion control services are now available to RKR Hess clients. UTRS's corrosion control team comprises the highest caliber licensed professional engineers and construction managers, many of whom have decades of field experience and are highly respected by their cathodic protection industry colleagues. All of our project engineers are NACE International certified, and many of our lead engineers frequently teach NACE certification courses.
In addition to its wide range of civil and environmental engineering services, RKR Hess will now be able to provide clients with such corrosion control services as: cathodic protection and alternating current (AC) mitigation for underground water, gas, and oil pipelines; cathodic protection of tank interiors and exteriors, including underground storage tanks (USTs) and aboveground storage tanks (ASTs); cathodic protection of reinforced concrete for bridges and tunnels; cathodic protection for submerged structures; and stray current services related to direct current (DC)-powered transit for heavy rail, light rail, and trolley systems.
Our corrosion engineering services include the following:
---
Corrosion Engineering
---
Cathodic protection for pipelines, concrete structures, power plants, refineries, water and wastewater treatment plants
Design of galvanic and impressed current systems, AC mitigation design
Site corrosivity surveys
Operations and maintenance
Cost estimating
Coating
Chloride intrusion
Annual surveys and testing
Evaluation of existing systems
Failure analysis
Construction Services
---
Impressed current and galvanic systems
Hydro excavation
UST/AST interior and exterior CP
Construction management
Construction inspection
System troubleshooting and repairs
Test station and monitoring
station installation and reading
Marine system installation
Transit Systems
---
Stray current analysis (dynamic)
Fixed facility stray current design
Baseline and revenue stray current studies
High pot testing
Quality assurance, including cable megger, ballast resistance, insulating joint QA testing, ground resistance (fall of potential) troubleshooting
Stray current mitigation design
Low track-to-earth resistance and stray current troubleshooting
Track-to-track and rail-to-rail resistance
Ground mat testing (fall of potential)
Installation inspection
Training
Expert witness services
Track isolation design
Transit system traction power modeling
Traction power loop testing
Construction management
Soil resistivity survey for grounding and CP
Corrosion Control Services Division Sample Water/Wastewater Projects
---
RKR Hess takes great pride in offering corrosion control services to our clients. The Corrosion Control Services Division offers a professional, rapid response and a high level of communication to meet each client's needs. The focus of our services is providing accurate, advanced, and cost-effective solutions. Sample projects of particular relevance to water/wastewater system operators are provided below.

City of Philadelphia Water Department (PWD)
Project Timeline: December 2009 – August 2014
UTRS is a corrosion control consultant for the PWD, providing engineering services at various locations on the water distribution and transmission piping systems. The scope of work includes the design of corrosion control systems to address soil corrosion and stray traction earth current corrosion. UTRS also represents PWD during post-construction testing and initial activation of installed corrosion control measures. UTRS also conducts corrosion control assessment surveys, including a recent survey at one of PWD's water filtration plants.
Montgomery Township, Eureka Wastewater Treatment Plant (WWTP)
Project Timeline: August 2009 – present
UTRS designed, activated, and adjusted cathodic protection systems for two at-grade wastewater treatment tanks for the Eureka WWTP in Montgomery Township, Pa. The scope of work also included the procurement and installation of cathodic protection materials. UTRS designed the required impressed current system for each tank to provide cathodic protection to the submerged portions of coated steel tank walls that were exposed to untreated and treated wastewater. Since 2010, UTRS has conducted annual cathodic protection system surveys.
CorTrol
Project Timeline: 2010 – June 2014
Since early 2010, UTRS has had an annual contract with CorTrol, one of PWD's corrosion control prime contractors. UTRS performs regularly scheduled periodic testing of PWD's cathodic protection and stray current mitigation corrosion control systems. If a system is found to not be operating in compliance with previous criteria, UTRS conducts troubleshooting field studies to determine the cause of the noted system deficiency.