Environmental Engineering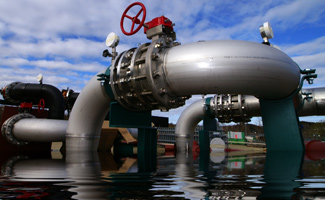 We are committed to the concepts of stewardship and recognize our part as environmental engineers in helping our environment. Our highly skilled staff are experts in analyzing regulations and designing systems which will help protect our environment. We know that no two systems are the same and design each project to meet our clients' needs. We conduct feasibility studies, provide environmental compliance planning, design systems to ensure compliance and assist with regulatory approvals and permitting as well as provide construction observation services to municipal and private clients alike.
Municipal Engineering
Our municipal clients face challenges in environmental issues. They must balance the environmental impact of their actions with the budgetary constraints of their municipality. We provide expert consulting services to our clients and implement solutions to meet the clients needs while ensuring the environmental impact is below any regulatory level.
We typically provide design, construction, plan review and permit applications for:
Water and sewer authorities
Water treatment plant design and operation
Surface water influence studies
Sewage treatment plant design and operation
Sewage enforcement officers
Manhole inspection
PA DEP Reimbursement applications for Act 537 pans
Water/wastewater rate studies
Funding applications; Penn Vest
Water distribution systems
Wellhead protection
Sewage collection systems
Environmental studies
Inflow and filtration studies
Act 537 Official sewage plans
Act 203 Tap-In analysis
Chapter 94 Wasteload Management reports
Rate studies
Private Sector Engineering
Land development requires careful environmental consideration, planning and design to ensure that ecosystems are maintained and regulations are maintained.   RKR has spent decades honing and imparting its knowledge in this arena to our clients.  We deal with commercial, recreational and residential land developers, resorts, community association, corporations and individual land owners to meet their needs and ensure compliance with the law.
We have provided feasibility studies, planning, design, construction observation, permit applications and assistance such as the following:
Sewage planning modules
Soil probe analysis
Detailed hyrdrogeorlogic swear
Sanitary surveys, sewage odor investigation
Spray irrigation design for sewage disposal
NPDES permits
Well and water system design and operation
Social/economic justification
Percolation tests/hydraulic conductivity tests
Residential and commercial  septic system
Analysis of malfunctioning septic system
Construction observation/inspections
Well sitings
Water storage and treatment system